Welcome to CHIBA CYCLE
To our dearest foreign customers
Welcome to Chiba Cycle.
You can choose your most favorite bicycle at Chiba Cycle. We know that the most important thing is not only selling you a bicycle but also providing you a variety of services after you purchase one.
If you are satisfied with our products then it would bring us happiness as well. We promise you that we are always doing our best to provide good service.
Let's begin an enjoyable bicycle life!

Unfortunately, we don't have English web site, but we can communicate well in English.
For more information, please feel free to visit our shop or please send me an Email.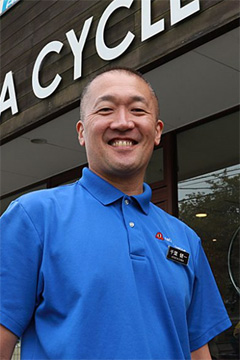 Kenichi Chiba
shop email: medaman2@chibacycle.com

LINK:
TREK 2018 model in Japan (Road, Mountain and Hybrid / Fitness bikes)
Special offer : 20% OFF for TEST BIKES of 2017 model
2018 TREK new EMONDA ALR has just been released!
2018 TREK new model has just been released! (Hybrid / Fitness bikes)